Our Guide To Restaurants, Breweries, Shops and Cafes During Lockdown
May 4, 2020 12:00:00 AM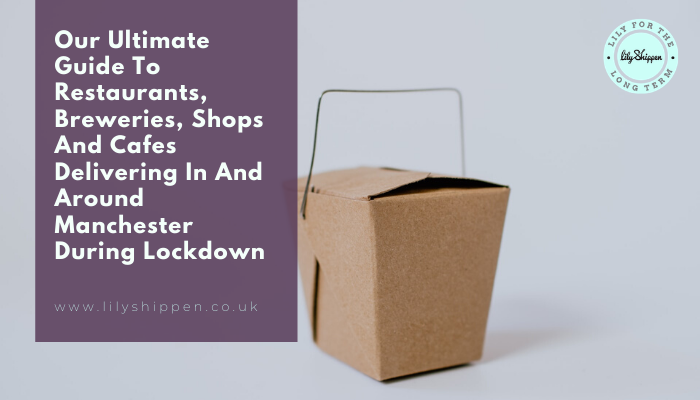 When we are in the office, the Lily Shippen team can often be heard discussing food, and our team are big foodies who love eating out, trying new restaurants, cafes and bars and sharing recommendations. We are really missing our usual haunts during lockdown and, coming up to 7 weeks in, some of us are struggling to find inspiration for our evening meals or are just, quite frankly, sick of cooking! If you are like us and are looking to try something a bit different this week, we have put together a guide containing some of our favourite restaurants and cafes that are offering delivery services in and around Manchester, as well as local businesses and breweries who are delivering their wares, in the hope that it will make staying in doors that little bit more bearable!
Restaurants and Cafes
The Koffee Pot – The iconic Koffee Pot, based in the Northern Quarter in Manchester city centre, have launched what they are calling 'Lockdown DIY Kits'. These kits can be ordered online each week with orders stopping on Thursdays at 3pm (or sooner if they run out of stock). Once you have ordered, your kits will be delivered straight to your door on a Friday. The kits on offer are 'The Full Fry' which are the ingredients to make a full English breakfast, 'Veggie Full Fry', 'All American Pancakes' and the 'Lockdown DIY Burger Kit'. All the kits have enough ingredients to comfortably feed two people – maybe even three if you aren't too greedy! To top it all off, the breakfasts and pancake kits come with a carton of orange juice, but if you're fancying something stronger, you can also add a litre of Bloody Mary for £7.50, a bottle of fizz for £10 or 4 cans of Shindigger Session Tall Boys for £10. It's a no brainer! Currently only delivering to the Greater Manchester area.
La Bandera – The award-winning Spanish restaurant La Bandera, situated in Manchester city centre, are offering their delicious menu for collection and delivery. The restaurant has excellent reviews and have also been feeding the frontline heroes by providing local Manchester hospitals with meal boxes. Their takeaway and delivery menu offers anything from Iberico ham, a selection of cheeses, tapas dishes and paella, to street food boxes and homemade desserts. From the look of their Facebook page, they will also be launching cocktails and sangrias available for collection and delivery soon too! Watch this space!
Noi Quattro – This traditional Italian eatery based in the Northern Quarter is offering delivery and takeaway from their own menu, as well as their sister restaurants The Pasta Factory. Items available range from aperitivos such as cured meats, cheeses and bread, ready made pizzas, fresh pasta, DIY pizza kits, as well as wine and beers. These are small independent restaurants run by 4 Italian friends so you can't get much more authentic than that!
Jolly Sailor – The Almond Family Pub the Jolly Sailor based in Davenport are also launching a takeaway service. As it stands, they are offering a 11LB roast chicken, pizzas, desserts, beers and wine at decent prices. If you are looking to support your local pub during these uncertain times, then this is the place for you.
Mughli – This is Emma's go-to Indian (other than Dishoom) who are still open for both a delivery and collection service. They have a restaurant based in Rusholme and one in Knutsford, which looks to be offering a delivery service to certain postcodes in the Altrincham, Hale and Sale areas. They are also operating an NHS Pick-Me-Up service where, if you contribute £2.00, they will prepare and deliver a meal to a member of the NHS at their local hospital the MRI. They don't make any profit off these meals. They have an extensive menu including starters, street food, mains, side dishes, sundries and alcohol. It really is one of the best Indian restaurants around so if you haven't tried it before we recommend you use this opportunity to do so!
Jasmine – Jasmine is a well-known and very popular Lebanese restaurant based in Chorlton who are operating a takeaway service during lockdown. They have an extremely broad menu including cold and hot starters, main courses, salads, side dishes and desserts. If you are looking for a meze style dinner with delicious dips, pitta bread, meats and fresh salads then look no further!
Thyme Out Food Co – This West Didsbury based café is hugely popular and uses only the freshest organic ingredients. They have created a service called 'Prepped' where you can choose from a different menu each week. The food is prepared for you and delivered to your door every Wednesday. They are currently delivering to South Manchester and the city centre and are offering free delivery to those who live within 5 miles of their base in M20. All you need to do is go onto their website and select a minimum of 5 dishes to be delivered. Each week they seem to be offering 4-5 main dishes to choose from as well as a kid's dish, sides and a dessert. Every time we have been to Thyme Out, we have never been disappointed and they are renowned for their catering business as well, so we are confident their delivery service will be just as good!
Six By Nico – Another firm favourite of Emma's is Six by Nico. They have launched 'Home By Nico' which is a collection only service. They only launched this side of the business this week, but it looks like it will continue whilst lockdown is in full swing. You can pre-order on a Friday for the following Friday or Saturday and the team prepare everything to make sure that all you need to do is pop the food in the oven once it has arrived. The first menu they offered was a 4 course French-inspired experience for two people at £50 or 4 people at £80 which included a bottle of wine to go with your food. Featured on the French menu was homemade bread, olive oil and balsamic, Pistou soup, Beef Bourguignonne with lyonnaise potatoes and petits pois, cheese, crackers and chutney and a frangipane galette with cream. This is real at home luxury at it's finest!
Hampers and Food Boxes
R Noone and Son – This local company are selling food boxes for delivery in Stockport and Manchester on a Monday, Wednesday and Friday each week. Their standard box is made up of bread, milk, egg, pasta and a mixture of fresh fruit and vegetables all for £25. They also have some dry store and pantry goods which can also be added to the boxes.
Farm To Fork Manchester – From here you can order fruit, vegetables, meat and a load of other essential items from local suppliers across Greater Manchester. The box for 2 people starts at £26 with the box for 4 starting at £50. They are also donating all leftovers to local foodbanks, with vulnerable people being given priority.
Lupo Caffe Italiano – This is a small Italian café based in Salford who are delivering boxes containing fresh fruit and vegetables (and a little extra surprise in each box) for £10. Orders are placed over WhatsApp on the number 07847028685 and rumour has it the delivery van is also stocked up with pasta, doughnuts and Italian wine and beer!
Groobox – Based in Knutsford, Groobox the farm company are delivering boxes with free delivery containing a range of home grown vegetables, fruit and eggs as well as homemade honey, apple juice and bread.
Breweries
ShinDigger – The well-known Manchester brewery have launched a same-day delivery service of their famous booze during lockdown.
Seven Brothers – The guys at Seven Brothers are selling your favourite beers to buy on their online webshop.
Thirst Class Ale – This Reddish based brewery are offering free delivery to customers within a 10-mile radius. Have a look on their website to see what delicious beers they have for you to sample at home!
Track Brewing Co – Delivering to the whole of Manchester and the surrounding areas – this brewery is delivering their famous beers straight to your door!
Vin-Yard – Not a brewery of course but the lovely people at Vin-Yard have set up a delivery system during lockdown where you can get your hands on 58 types of red wine, 55 types of white wine, 26 sparkling options and 7 delicious roses! Just in case you are more of a wine drinker than a beer drinker!
Photo by Kelly Sikkema on Unsplash
Looking for CV or interview preparation coaching?
Lily has over eight years' experience working with PAs, EAs and business support professionals. Lily personally works with PAs and EAs who are looking to prepare for an upcoming interview or are looking for advice on how to make their CV stand out.
Topics from this blog: Recruitment
Back